Groups & Weddings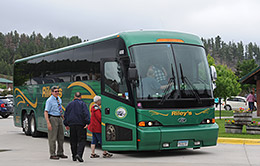 Group Policies
A group is 20 or more paying customers under one name with one payment.
For group sales, call (605) 574-2222.
Reservations are required.
A deposit of $100 is required to hold a group reservation. The remainder will be held with a credit card.
Passenger count is due 7 days out.
Cancellation charges of $10 per cancelled passenger will be made to the credit card if there are any passenger cancellations after the 7-day deadline.
Balance is due upon arrival at ticket counter.
A 100% refund is available if we are notified of cancellations 14 days out.
The group must be at departure point no later than 45 minutes prior to departure.
Each group is met and seated by a trained guide. Bus parking is available at the Hill City station (handicap accessible).
Wedding Ceremonies
Bandana Meal Deals
Available for groups of 20 or more, this is a fun and festive way to have your lunch ready to eat on the train, the deck or to go. Reservations required by calling 605-574-2222. Meal deals are $7.25 each and include a sandwich (ham, roast beef or turkey), chips, cookie and a can of soda. The bandana is yours to keep as a souvenir!
Wine & Cheese Option
Available for groups of 20 or more, this option includes train ride, 2 glasses of wine served on board with fruit and cheese and a keepsake wine glass. Reservations required by calling 605-574-2222.
Tickets
Round Trip: $40 Adults,
$21 Children (3-12)
One Way: $35 Adults $35.00,
$19 Children (3-12)

Child price includes a non-alcoholic beverage.
Marketing aids available
Slides, photographs, videos, brochures and give-aways are available for travel shows. We also offer familiarization tour opportunities, itinerary planning and volume discounts.