Experience the magic as you take a journey from Hill City to the North Pole where Santa will be waiting to get on board the train.
New this year: Holiday Express – Spiked! We are excited to offer an adult only option on very limited departures. Enjoy a keepsake Holiday Express mug filled with spiked hot cocoa while in route to the North Pole. Don't worry, Santa will still be visiting your car! These tickets are on sale now so reserve your seats today. These tickets may not be combined with regular Holiday Express tickets.
Get your tickets early. Call 605-574-2222 to make reservations or make them online.
Dress for Success: Train cars are enclosed and slightly heated, but the boarding area is outdoors so dress appropriately.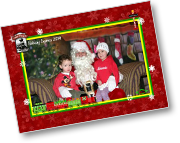 Photos with Santa
Enjoy a keepsake photo of your Holiday Express experience by getting a professional photo with Santa! Photos are $10 each or 3 for $25 and are taken in the caboose at the North end of the train yard. Santa photos will be taken from noon - 4:00 pm each day of the Holiday Express rides.
Tickets
Holiday Express
$28 Adults
$12 Children (3-12)
under 2 ride free

Holiday Express – Spiked!
$38 Adults only
Your credit card is charged at the time of purchase. Please pick up tickets 30 minutes in advance at the Hill City Depot.
Tickets Include
Holiday Express
Train Ride
Hot Chocolate
Sugar Cookie
Candy Cane
Small gift for each child
Visit with Santa
---
Holiday Express – Spiked!
Train Ride
Spiked Hot Chocolate
Sugar Cookie
Candy Cane
Keepsake cup
Assigned seating in adult only car
Visit with Santa
This option available on the following trips only:
Friday, November 25: 4:15 pm
Thursday, December 22: 6:00 pm
Friday, December 23: 6:00 pm
Seating
Seating is NOT Assigned for regular ticket holders. First come, first served. In order to sit together, passengers must be under ONE reservation and ONE payment.
Cancellation Policy
Credit card is charged at time of reservation. Like any ticketed event, all sales are final and no refunds or cancellations are offered unless ticketed train does not operate.
Bad Weather: Please prepare for winter road and traffic conditions! The 1880 Train is not liable for road closures or delays. This event will run no matter the weather.