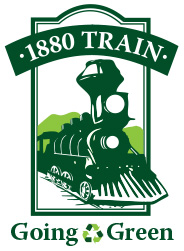 Our corporate mission at the 1880 Train is the preservation and operation of vintage steam locomotives and passenger equipment for the enjoyment of visitors to the Black Hills of South Dakota. Operating 100 year-old steam locomotives is not an inherently green operation, however, we place specific emphasis on sustainable and green choices in our other operations as detailed below. We hope you enjoy the sight and smell of our authentic equipment and that it provides the opportunity to reflect on how far technology has progressed in the past century.


Electric Vehicle Charging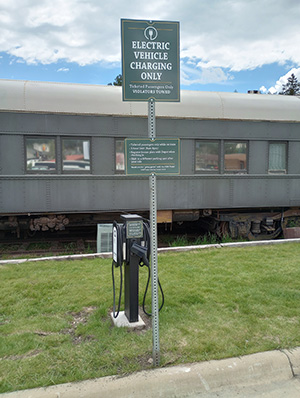 We are proud to announce two parking spots for customers with Electric or Plug-In Hybrid Vehicles at our Hill City location. Please enjoy the complimentary use of our Clipper Creek J-1772 chargers while you ride the train. We hope the charge will extend your driving day and encourage you to enjoy our heritage railroad. Please register your vehicle inside of our Hill City Depot when you check-in to get tickets.
https://www.plugshare.com/location/386909
Recycled Fuel Oil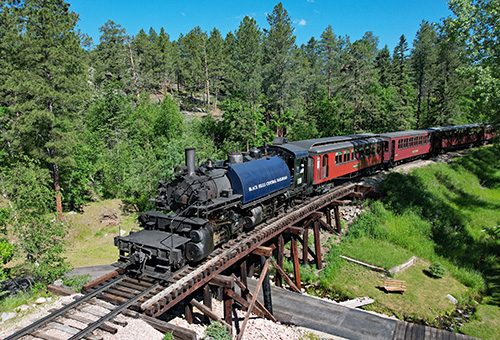 Our locomotives burn reclaimed/recycled lube oil—the same motor oil normally disposed of during your vehicle's oil changes, with a few caveats. All of our fuel (around 800 gallons per day) is sampled and processed by a commercial vendor to be free of hazardous materials and to be a uniform grade before delivery. We do not accept donated oil for this reason.

All of our active locomotives were originally constructed as oil-burners for use in logging operations in the Pacific Northwest. This design was likely based on available fuel sources at the time, but the primary benefit was to prevent forest fires started by partially burned coal cinders emanating from the smoke stack. Oil burns without embers or ash falling in the forest and is a perfect fit for our operations today within the heavily forested Black Hills. The original fuel for such locomotives was called heavy fuel oil (or bunker oil when used on ships of the time). This heavy oil had a thick consistency and required continuous heating to allow the fuel to flow. Our reclaimed lube oil flows freely without heating, but still contains a great deal of thermal energy needed to power our trains.

Our trains climb some of the steepest steam powered grades in the tourist railroad industry (up to 6% in multiple areas). These grades work our locomotives very hard, but we pride ourselves in operating a "clear stack" with only a light brown haze present. This represents the most efficient combustion of fuel and the cleanest emissions. You may occasionally observe darker exhaust on the steepest hills, meaning our locomotives require a bit more fire to maintain steam pressure, however, you will not see the billowing, black smoke found in popular Hollywood movies.

You may catch a short-lived blast of black smoke near the beginning of every trip when the Fireman "sands the flues." This process involves pouring clean white sand into the firebox of the boiler while under heavy load. This sand is swept along by combustion gasses at high speed and sandblasts accumulated soot from the inside of the boiler tubes, or flues. Sanding the flues cleans the heat transfer surfaces within the boiler and promotes efficient use of the fuel for the remainder of the trip. The sand and soot are exhausted out of the smokestack, high into the air in a dark, black plume.

What goes up, will sometimes fall near the passenger cars. This falling sand is not hot and will not start a fire, however it is no longer clean or white... We are famous, or perhaps infamous, among locals for raining sooty sand down onto the clothes of riders in our former open top cars. These old open top cars are all retired and every car is equipped with a roof, greatly decreasing the impacts of sand or rain during the summer months.
Recycling Program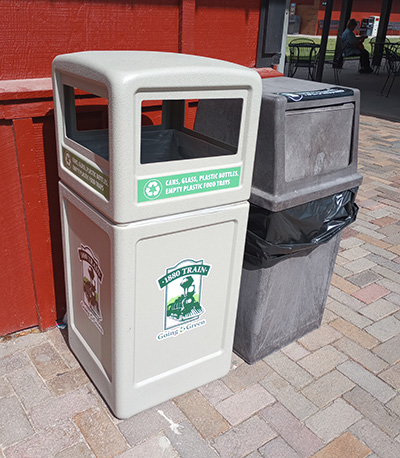 We make deliberate choices on merchandise and food sold in our gift shops and restaurant, so that the packaging matches our regionally available recycling and waste services.

At the beginning of every season, we collect and recycle over 100 cubic yards of brown cardboard used to ship our initial merchandise and food supplies. This packing material is collected on-site daily and shipped to a recycler for future recycling. Collection of clean, brown cardboard continues throughout the summer season and removes a large amount of cardboard from the local landfill.

Similarly, our daily passenger operations generate a large volume of food and beverage containers from our depots and Highliner Eatery. Aluminum cans, glass bottles, and plastic bottles and food containers can be deposited in labeled recycle bins on the train and throughout the passenger areas. Each summer we fill fifteen to twenty large, 30-yard roll-off dumpsters worth of co-mingled recycling. These materials are sent to the Rapid City sorting facility for further processing, potentially removing 100 tons of material from the regional landfill.